Carrying this baby weight makes shopping for clothes torturous and depressing, however still wanting something of a pick me up I recently hit the shops for some birthday treats. The two things that are sure to always fit are shoes and accessories, right? Firstly I headed to Brown Thomas as I had some vouchers burning a hole in my wallet. I got gorgeous stilettos from Carvela by Kurt Geiger. They hurt like hell on the first wear but I don't care, I just love them. I know I will get tons of wear out of them and I love the suede/patent combo.
Next up a pair of bright flats from Oasis. Though they are comfortable and I love the colour, I don't know how long they are going to last in Irish weather as they are a type of suede and are already marked but I just loved the pop of colour they bring to any outfit. They also have a cute stud detail on the back!
Finding a nice top to transition from post baby tum to no tum (or in my case less of a tum) is really difficult. However, the world doesn't stop just because you have had a baby and so tops and jeans that will suit and flatter while you wait are the order of the day. Recently I have been living in jeggings from Penny's. Not only are they cheap and cheerful, they are also very comfortable. My secret must be out because it took three visits to different stores to find a black pair in my size recently. I also got this top for 30 euro in River Island. My preference is to wear these type of tops in a size smaller so as they are a little more form fitting so I bought in a size 10, though I am far from it at the minute. As it is quite plain I dressed it up with a neckpiece for a night out.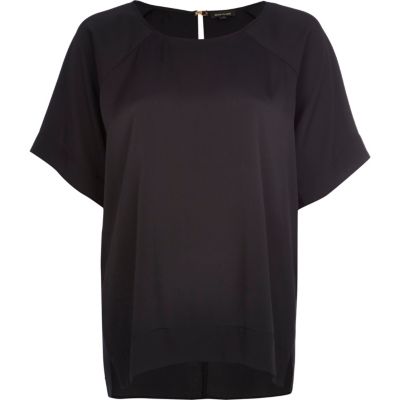 So there you have it, my birthday haul! I also got some nice black lace-style earrings in Oasis and a new Chanel nail polish (more of which later). I got a few vouchers as birthday presents so I am looking forward to going shopping again when I feel like the clothes I like will actually fit me! In the meantime I am putting together a wishlist. I may have to cull it to match my budget but a girl can wish!!